Europe Day 2020 Celebrations in Venice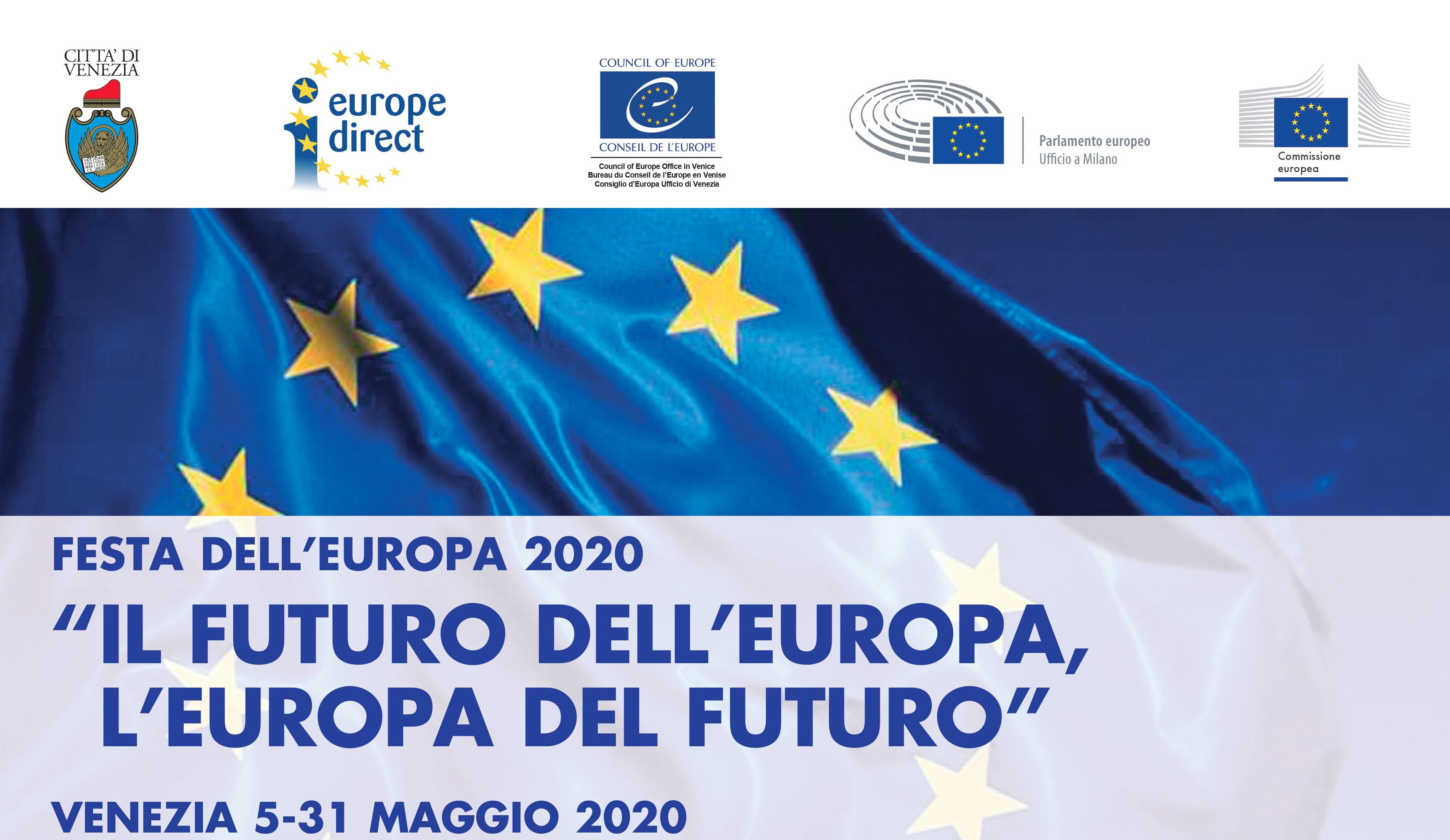 #FestaEuVenezia2020
From 5 to 31 May 2020 the event "The Future of Europe, Europe of the future" is held, a great celebration in the heart of Venice to celebrate Europe Day, now in its eighth edition. Despite the covid-19 emergency, this edition of the Europe Day Celebrations does not stop and turns into a virtual mode, a sign of the European nature and resilience of the City of Venice and of the partners who have always collaborated with it.
In this occasion, two significant anniversaries for Europe, are celebrated:
- 5 May 1949: foundation of the Council of Europe with the Treaty of London

- 9 May 1950: the birth of the European Union with the "Schuman declaration" on the occasion of the Paris speech
The date of the event is significant since 9 May is Europe Day. This year marks the 70th anniversary of the Schuman Declaration. In fact, on 9 May 1950, a few years after the end of the Second World War which devastated the old continent, Robert Schuman, the French Government's Foreign Minister, presented the proposal to create an organized Europe, essential for the maintenance of peaceful relations between the constituent States. The proposal, known as the "Schuman Declaration", is considered the European Union's birth certificate.a
More information on the Europe Day Celebrations can be found at this link.
The Europe Day Celebrations in Venice takes place in this way since 2013.
2013 Edition
2014 Edition
2015 Edition
2016 Edition
2017 Edition
2018 Edition
2019 Edition
Some numbers of the 2019 event in Venice:
- 26 days of celebrations
- 4000 young people, local and non-local interested 
- 20 events including meetings, exhibitions, stands, shows and seminars
- 40 partners that participate with local, national and European institutions and organizations
The initiative is the result of collaboration between:
- City of Venice
- Council of Europe
- European Parliament - Information Office in Milan
- European Commission - Representation in Italy
Partners of the initiative:
- Europe Direct del Comune di Venezia
- Città metropolitana di Venezia
- MFE - Movimento Federalista Europeo
- Università Ca' Foscari Venezia
- Cestudir - Centro Studi sui Diritti Umani
- CDE - Centro di Documentazione Europea
- Venice International University
- MIUR Ufficio Scolastico Regionale Veneto
- Eurodesk Italy
- Eures
- VenetoLavoro
- Ca' Foscari Alumni
- ESN - Erasmus Student Network
- Unioncamere Veneto - Eurosportello del Veneto
- PON Metro
- ESU Venezia
- Conservatorio di Musica Benedetto Marcello
- VDS - Venice Diplomatic Society
- Compagnia Teatrale Pantakin
- Shylock Centro Universitario Teatrale di Venezia
- Cinema Dante d'essai del Circuito Cinema
- M9 - Museo del '900
- Caffè Florian
- Caffè Lavena
- San Servolo Servizi Metropolitani di Venezia
- Liceo Stefanini
In cooperation with the regional office of RAI per il Veneto
List of the events programmed for May 2020:
Tuesday, 5 May 2020:
- 9.30 a.m. "Infoday Marie Curie. How to write a successful proposal" webinar in english on adobe connect realized by the Ca' Foscari University in Venezia necessary previous sign up - See details here
- 3.00 p.m. Webinar  "The future of Europe: challenges, funds and opportunities" organized by the Office for European Policies of the Municipality of Venice with Massimo Gaudina, Head of Representation of the European Commission in Northern Italy chez European Commission - See details here
Wednsday, 6-13-20-27 May 2020

- 3.00 p.m. "Europe in pills", a cycle curated by Europe Direct Venezia/Eurodesk, Venetolavoro-Eures and Council of Europe on European topics - live Facebook - See details here
Friday, 8 May 2020:
- 5.00 p.m. "Coronavirus: the answers of Europe" online meeting open to all citizens realized by Ca' Foscari University of Venice with Vito Borrelli, Vice Director of the European Commission in Italy - See details here
- 5.00 p.m. ""The EU and the Global Pandemic", webinar held in english relized by VIU - Venice International University - webinar dedicated only to VIU and VDS sudents- See details here
Saturday, 9 May 2020
- 10 a.m. "BECOME EUROPEAN CITIZENS" award ceremony organized by Europe Direct Venezia Veneto, USR - Ufficio Scolastico Regionale per il Veneto e MFE- Movimento Federalista Europeo - See details here
- 2.30 p.m. Meeting "European Union, past and present", a conversation with Virgilio Dastoli, President of the Italian Council of the European Movement. Podcast on M9 social media - See details here
- 4.00 p.m. "Moving Europe on live", a live performance on Facebook to share the preciousness of cultural, social and artistic exchange that comes from some reflections and experiences of European youth mobility with university students and Shylock CUT Venice - See details here
- 6.00 p.m. "Marching for peace", webinar live on Facebook by the Associations for Peace of the Metropolitan City of Venice. Event included in the official program "Padua European Capital of Volunteering 2020" - See details here
Friday, 15 May 2020
- 3:00 p.m. broadcast live on Facebook of the Competition for communication and creativity "Climate change - The grand Challenge 2020" - See details here
Thursday, 21 May 2020
- 10.00 a.m. "Doing business at the time of Coronavirus: services and tools to support Smes" webinar relized by Eurosportello - Unioncamere del Veneto - webinar on Google meet upon registration - See details here
Friday, 22 May 2020
- 3.00 p.m. Animated reading of "A European fairy tale" by the Pantakin Theatre Company - live video on the Facebook platform - See details here
Friday, 29 May 2020
- 6.00 p.m. "Europe in music" a musical moment of the Conservatory Benedetto Marcello of Venice in collaboration with the Italian office of the Council of Europe
Live video on the Facebook platform - See details here 
From 5 May 2020
-  "The mothers and fathers of the European Union", new video in presentation of the october's exibition to be held at M9 - See details here
- "Certilingua Certificates Cerimony", new video of congratulations to the students by MIUR Ufficio Scolastico Regionale Veneto - See details here
- "Un mondo nuovo - Altiero Spinelli" film RaiPlay of Alberto Negrin - See details here
- Photogallery of the European flag displayed by citizens in the City of Venice - See details here
BLUE ILLUMINATION AND BANNER

On May 5th and 9th the facades of Ca' Farsetti and Ca' Loredan in Venice, of the town and the civic tower of Mestre and the Marghera's fountain will be illuminated with blue - See details here
Info and Complete Program:

Europe Direct of the City of Venice

Green number 800 496200

infoeuropa@comune.venezia.it

www.comune.venezia.it/europedirect

www.facebook.com/EuropeDirectVenezia
Photos of the blue lighting and banner in during previous editions: