19.05-28.10.2021 Cycle of meetings "We are the Green Deal"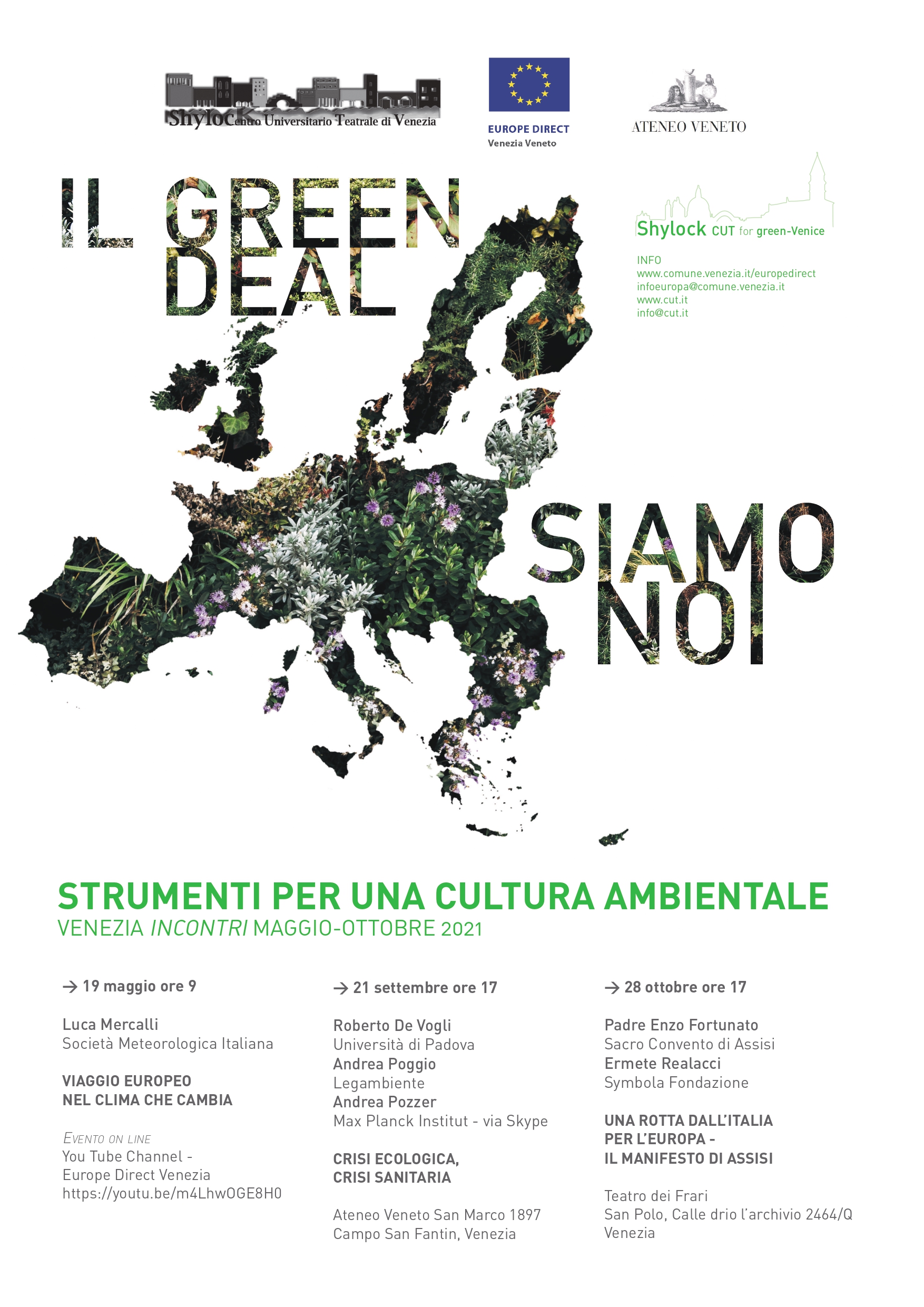 THE GREEN DEAL IS US
Instruments for an environmental culture
Series of meetings in Venice between May and October 2021
Europe Direct Venezia Veneto del Comune di Venezia and Shylock Centro Universitario Teatrale di Venezia organize a series of three meetings on climate change, the air quality we breathe and the need for a radical transformation of lifestyles, economy and society.
The European Green Deal is not only implemented through a set of rules, provisions or instructions dictated by the European institutions. It's a new human and social pact that commits us to defining an agreement between countries and peoples all over the planet and between them and natural resources.
Facing this path means having the tools and knowledge to understand the environmental changes in progress and live the adaptation with creativity and awareness.
The three meetings are moments of dialogue with professionals who have become milestones of this journey, not only for Italy, but also and above all for their connection with Europe and the rest of the world.
- Wednesday 19 May 2021: Luca Mercalli, President of the Italian Meteorological Society, is one of the most effective communicators of the national panorama and makes his scientific expertise a tool of sharing and coherence in daily life choices. It will take the public on a journey through the changing climate between Italy and the rest of the continent.
- Tuesday 21 September 2021: "Ecological crisis, health crisis" with Roberto De Vogli, Professor of Global Health at the University of Padua, Andrea Poggio, Head of Mobility Legambiente and Andrea Pozzer, an expert in atmospheric chemistry at the Max Planck Institut for Chemistry; Mainz (Germany) connecting via Skype. They will trace the existing connections between the environment, lifestyles and pandemic, to explain how the environmental crisis is a global health crisis.

- Thursday 28 October 2021: Father Enzo Fortunato, head of the Press Office of the Sacred Convent of Assisi and Ermete Realacci, president of the Symbola Foundation, are founders of the Assisi Manifesto, now signed by thousands of people, to chart a new course towards a society and an economy "on a human scale" and environment.
The first event took place online on Wednesday, May 19 at 8.45 am, with the involvement of Venetian high schools on the Microsoft Teams platform. Subsequent events will take place in accordance with the provisions anti Covid19 and by instructions for the mode in presence or online that will be made known by the beginning of September 2021
Info:
Europe Direct del Comune di Venezia
Via Spalti 28, 30174 Venezia Mestre
Revision of contents: 23/09/2021