Christmas Tree Decoration Exchange - European Christmas Decorations Exchange Project 2018 - REGISTRATIONS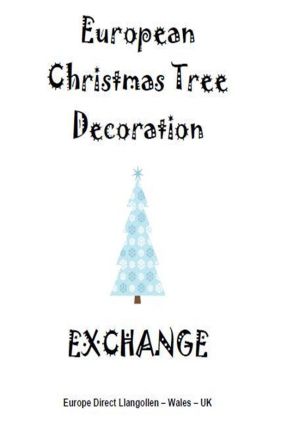 SOLD OUT for the Christmas Christmas decoration exchange project "Christmas Tree Decoration Exchange 2018".
Pre-primary and primary schools from Veneto can join.
Deadline for submissions: 30 September 2018
The Center Europe Direct di Wrexham in Wales organizes the twelfth edition of the "Christmas decoration exchange" project among the kindergartens and primary schools all over Europe. Europe Direct in Venice joins this European project since 2017.
Why
In Wales, based on the experience of the Europe Direct Center in Wrexham, the collaboration with schools proved to be more fruitful than any other collaboration with other organizations or groups. Welsh schools have been keen to deepen their knowledge of the cultures of other European countries and have noted how this contributes to learn more about geography, history, languages ​​and European citizenship. In this way the schools were able to make their training offer even more complete.
Aims
- Deepen the knowledge of the culture of other countries through fun and creative activities such as the creation of Christmas decorations
- Allowing students to better understand their own customs and to discover, at the same time, the cultures of others
- Help pupils in the process of learning languages, geography, history and culture of other EU countries and thus develop a better understanding of the concept of European citizenship
- Encourage an exchange of work and relations between the schools of the Union which can last in the future
Activities
Once all the applications have been received (maximum 10 schools per region), these will be included in groups of about 30 schools defined by the ED of Wrexham. One or more classes of the same school can participate. The exchange of decorations will take place within the group to which they belong.
Each school must realize:
- 30 Christmas decorations representing your region or country. The decorations can be made in a prefferred material size. It is advisable, however, to evaluate that they will have to be hanged up a Christmas tree and that the shipping costs vary depending on the size / weight and that these costs are up on you.
The number of decorations to be made must correspond to the number of schools and centers in Europe Direct included in the group to which they belong (max 30). The schools will set up their Christmas tree with all the decorations received, thus creating a multicultural European Christmas tree.
- an information package on typical Christmas celebrations in your region or country in paper or electronic format.
The information package must contain:
- general information on the region and the country (geographical position, spoken languages, climate, culinary information, celebrities, worthy places, etc.);
- how traditionally Christmas is celebrated in your own region or country;
- the Christmas traditions and myths of the region;
- Christmas songs;
- Christmas recipes;
- Christmas greetings in your own language.
In addition, children's drawings inspired by Christmas, instructions on how to create decorations and any other significant information may be included. The information package will be useful to let the children know how Christmas is celebrated in other European countries by setting up a display or organizing a "European" Christmas event.
Deadlines
- by 30 September 2018 confirm your membership by sending an email to infoeuropa@comune.venezia.it specifying your data (name, address, phone number of the school and name, telephone number and email of the project contact person)
- by 31st October 2018 the schools will receive a list of the participants with the reference groups, the names and addresses of the schools and of the project leaders
- by November 16th 2018 the decorations and information packs produced by the school must be sent to all participating schools and Europe Direct centers included in the group to which they belong
Some photos of the 2017 edition: