6.06.2022 - 29.09.2022 - Series of meetings "We are the Green Deal"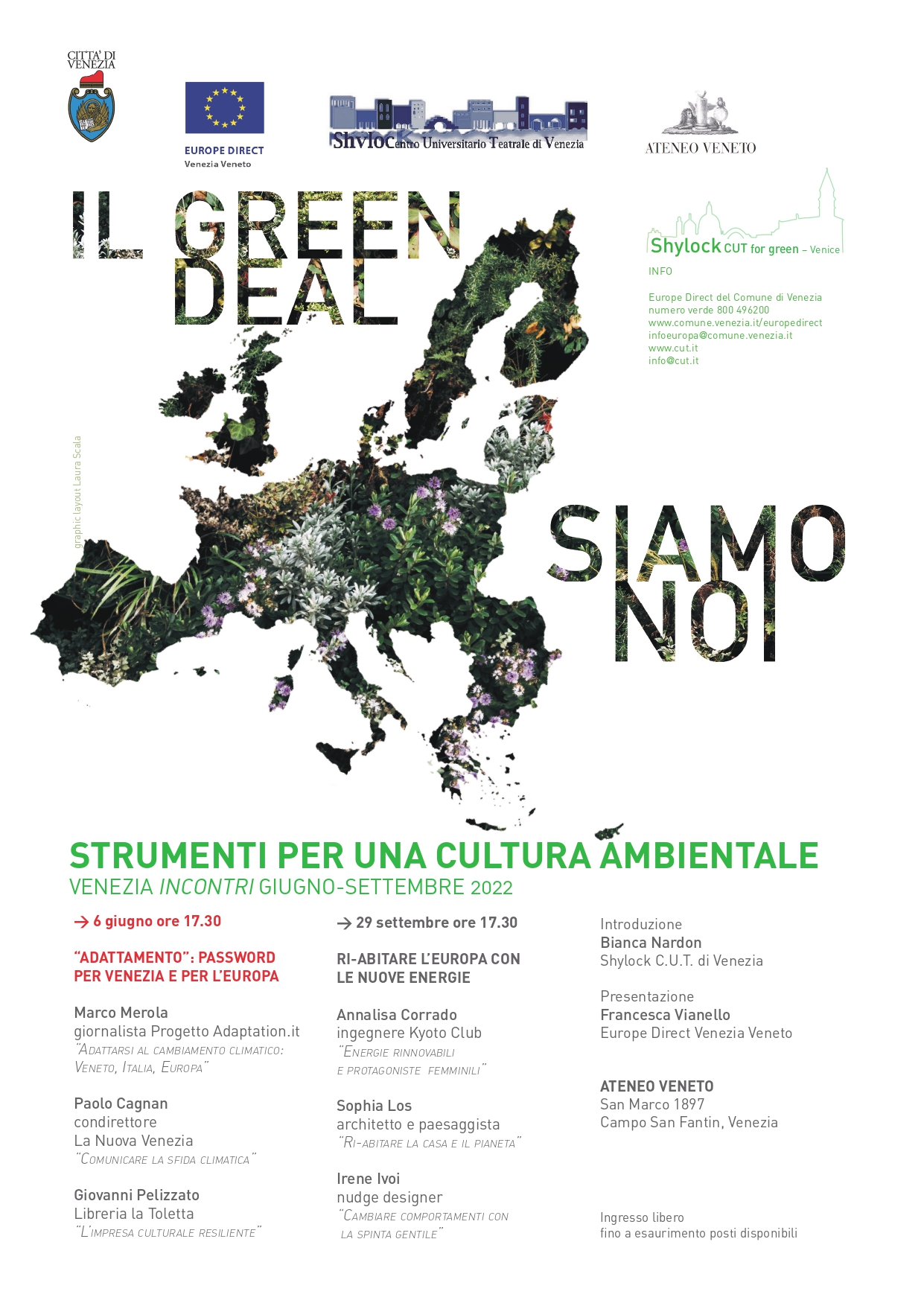 WE ARE THE GREEN DEAL Instruments for environmental culture
Cycle of meetings in Venice between June and September 2022
Europe Direct Venezia Veneto and Shylock Centro Universitario Teatrale di Venezia are organizing two meetings on climate change, on the connections with the environment, on the pandemic and health, and on the necessity to radically transform lifestyles, the economy, and society.
The events are held in presence with the disposition against Covid19, in Ateneo Veneto di Venezia, Campo San Fantin, 1897 Venice (VE)
The European Green Deal is not applicable only trough a series of norms, provisions or instructions dictatate by European institutions. It is a new human and social pact that helps us having an agreement between States and citizens of all over the world, especially regarding natural resources.
To face this path it means to equip oneself with tools and to have the knowledge to understand the ongoing environmental changes, and to live adapting with creativity and awareness.
The three meetings are moments of dialogue with professionals who are able to help us on this long path, not only for their skilles developed in Italy, but also because for their connections with Europe and the rest of the world.
- Monday 6th June 2022, 17.30
"Adapting - Password for Venice and for Europe"
Bianca Nardon, Shylock C.U.T di Venezia
Francesca Vianello, Responsable Europe Direct Venezia Veneto
Marco Merola, journalist Project Adaptation "Veneto - Italia - Europa"
Paolo Cagnan, codirector La Nuova Venezia "Comminicating the climatic crisis"
Giovanni Pelizzato, Book Shop la Toletta, "The cultural resilience enterprise",
- Thursday 9th September 2022 17.30
"Ri-Live Europe with new energies"
Bianca Nardon, Shylock C.U.T di Venezia

Francesca Vianello, Responsabile Europe Direct Venezia Veneto
Annalisa Corrado, engineer Kyoto Club, "Renewable energies and femal protagonists"

Sophia Los, architect bioclimatico, "Ri-live homes and the planet"

Irene Iovi, nudge designer, "Changing behaviours with a nice push"
For more info:
Europe Direct del Comune di Venezia
Via Spalti 28, 30174 Venezia Mestre