17.02.2020 "Presentation of the new European Parliament: Italian elected representatives in the North-East constituency"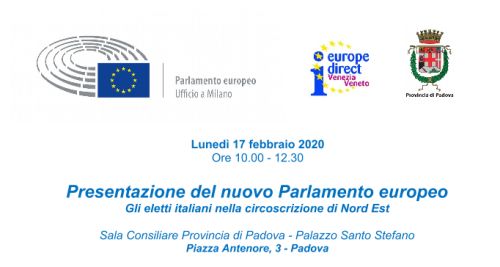 Monday 17 February 2020 from 10.00 to 12.30 was held the meeting "Presentation of the new European Parliament: the elected Italians in the district of North East" at the Council Hall of the Province of Padua - Palazzo Santo Stefano in Piazza Antenore, 3 (Padua). The meeting dealt with the issues of the new legislature with the establishment of the Parliament, the appointments of the institutional summits and the composition of the political groups is now under way. With this meeting, we took the opportunity to present the Members elected in the constituency of North-East Italy.
European parliamentarians from the Northeast constituency were invited to the meeting.
The meeting was directed to local stakeholders, local and regional authorities and associations and was open to the world of school and university.
Programme
10.00 Reception and registration
10.30 Institutional greetings
Fabio Bui - Director of the province of Padua
Maurizio Molinari - European Parliament Office in Milan
10.45 Presentation of the new European Parliament
Mara Bizzotto - European Parliament (Member of AGRI Commission)
Paolo Borchia - European Parliament (Member of ITRE Commission)
Gianantonio Da Re - European Parliament (Member of CULT Commission)
Herbert Dorfmann - European Parliament (Member of AGRI Commission)
Sergio Berlato - Euroepan Parliament ( Member of the Commission for the environment, public health and food security and member of the delegations for the relations with the Mashreq countries, for the relations with the Arabic peninsula and for the Parliamentary Assembly of the Union for the Mediterranean Sea)
12.00 Francesca Vianello - Europe Direct Venezia Veneto
Modera: Giovanni De Luca - Director of the regional office Rai for Veneto
Cocktail followed
Link to Rai Tre Veneto broadcast "A Padova, i parlamentari europei: aprire un dialogo con i cittadini", 17.02.2020
Link to TV7 TRIVENETA broadcast "I parlamentari del nordest: i progetti in Europa", 17.02.2020
Some pictures of the meeting:
---
For information
Europe Direct del Comune di Venezia
Ca' Farsetti, San Marco 4136 - Venezia
numero verde 800 496200
fax 041 2748182
infoeuropa@comune.venezia.it
www.comune.venezia.it/europedirect
www.facebook.com/EuropeDirectVenezia
www.twitter.com/EuropeDirectVe
www.instagram.com/europe_direct_venezia/