17-21.06.2019 -EU Sustainable Energy Week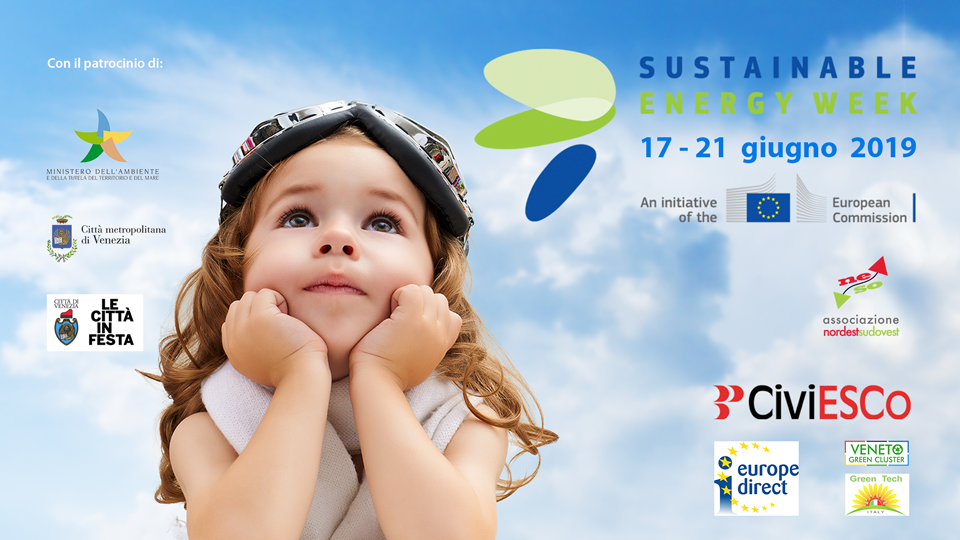 The EU Sustainable Energy Week was held in Venice from 17 to 21 June 2019.
The cycle of appointments and events, now in its ninth year, is in line with the central one in Brussels.
The events were all free.
Experiences at local and national level, open issues, good practices and news have been highlighted to inform citizens about the various impacts that energy efficiency and renewable sources have on everyone's lives.
Hundreds of "Energy Day" were organized in different European cities, with the involvement of the major players in the field of renewable energy and energy efficiency.
Objective: To disseminate best practices, inspire new ideas and foster networking activities in the field of energy efficiency and renewable energy sources.
For the ninth consecutive year, the Venetian event has been included in the official European programme.
Visit the official European website
The event has been organized by the Association NordEstSudOvest and since 2012 Europe Direct of the City of Venice participates directly in the organization of the Venetian event with the presence in conferences and meetings, in the information stands in Mestre, with the distribution of institutional materials of the European Union.
The Venetian Week is sponsored by the European Commission, the Ministry of Environment and Protection of the Territory and the Sea, the Ministry of Heritage and Cultural Activities, the Ministry of Economic Development, the Veneto Region, by local authorities, professional associations and others.
PROGRAMME:
Infopoint on sustainable energy
From Monday 17 to Friday 21 June 2019
Venezia Mestre, Centro culturale Piave 67, via Piave 67
------------------------------------
Thursday 6 June 2019 at 17,00
Montegalda (VI) Complesso idraulico comunale Bacchiglione, via Perarolo di Colzè
Conference: "Green energy to move in Europe" with Associations, tour operator and local administration
------------------------------------
Tuesday 11 June 2019 at 12,00
Venezia, Office of the Council of Europe, S. Marco 180/c
Opening and presentation of the programme of the EU Sustainable Energy Week 2019
Speakers
Luisella Pavan-Woolfe, Director of the Venetian Office of the Council of Europe
Pierantonio Belcaro, President of the Association NordEstSudOvest
Silva Papalino, EuropeDirect Venezia Veneto
Antonio Fiore, President of the Association Amici dei fiumi del Veneto e dell'Europa - CITF
See the details here
------------------------------------
Monday 17 June 2019 at 16,30
Venezia Mestre, Hotel Tritone Best Western, viale Stazione 16
Conference
"

Producing from waste: sustainable energy and beyond.

Circular economy experiences and projects

"
Moderates
Pierantonio Belcaro
, President of the Association NordEstSudOvest
Speakers
Silva Papalino
, EuropeDirect Venezia Veneto
Vladimiro Agostini
, President of Veritas s.p.a.
Alberto Ferro
, President of Eco-ricicli Veritas s.r.l.
Marco Boaria
, Manager of ALDA Resources and Development
Enrico Cancino
, CEO of Green Tech Italy Rete d'impresa
Antonio Casotto
, President of Ethan Group
Massimo Fuccaro
, Direttor General of NET s.p.a.,representing also CiviESCO s.r.l.,
Roberto Galeazzi, Chairman of the consortium VALMAU
Lorenzo Lastella, CEO of Energintech s.r.l.
Elena La Rocca, Councillor of the Municipality of Venice
See the details here
------------------------------------
Tuesday 18 June, 9.00 - 13.30
Treviso Sede della Provincia - Via Cal di Breda 116 - Edificio 6 - Sala Corsi
Conference
"The Public-Private Partnership for interventions on the heritage of municipalities for energy sustainability: technical and financial instruments"
Welcome speech
Mariarosa Barazza
, President of the Association of the Municipalities of Marca Trevigiana
Pierantonio Belcaro
, President of the Association NordEstSudOvest
Reports
Andrea Sacchetto
, EGE - Expert in Energy Management
Michele De Carli
, Associate Professor at the Department of Industrial Energy - University of Padua
Massimo Bolzicco
, CEO of CiviEsco srl
------------------------------------
Wednsday 19 June 2019 at 17,30
Venezia Mestre, Centro culturale Negozio 67, via Piave 67
Conference "Clean energy, clean air: situation and projects in the Veneto area"
Welcoming speech
Fabrizio Preo, President of APS Gruppo di lavoro via Piave
Moderates
Alessio Molin, Vice President of the Association NordEstSudOvest
Speakers
Antonio Fiore, President of the Association Amici dei fiumi del Veneto e dell'Europa - CITF
Salvatore Patti, Director of the Air Regional Observatory of ARPA Veneto
Beatrice Bilotti, EuropeDirect Venezia Veneto
Stefano Munarin, Professor of Urban Planning at IUAV University of Venice /FIAB Mestre Representative
Emanuele Rosteghin, Councillor of the City of Venice
See the details here
------------------------------------
Wednsday 19 June 2019 at 20,00
Venezia Mestre, Officina del Gusto, via Sarpi 18
Sustainable Energy Celebrations
For information and reservations: info@nordestsudovest.org
------------------------------------
Monday 24 June 2019 at 15,30
Venezia Mestre, Hotel Bologna, via Piave 214
Conference
"The regeneration of the built-up building heritage: experiences and projects with sustainable energy"
Welcoming speech
Gianpiero Perin
, Directive of the Committee of the Association NordEstSudOvest
Ugo Cavallin
, President ANCE Venezia
Moderates
Francesco Miggiani
, Manager of Prodemos Venezia Nordest
Speakers
Franco Gazzarri
, Councillor for the Order of Architects of the Province of Venice
Laura Fregolent
, Professor at IUAV University of Venice
Oscar Girotto
, Expert
Marina Dragotto
, Director of AUDIS Associazione Aree urbane Dismesse
Maurizio Franceschi
, Director General of Confesercenti Venezia
Andrea Ferrazzi,
Senator, member of the XIII Commission
Paola Mar
, Councillor for Tourism of the City of Venice
Gianfranco Bettin
, President of the Municipality of Marghera
The Conference was valid for the attainment of the formative credits of the Order of the Architects, planners, landscapers and Conservators
------------------------------------
Friday 28 June 2019 at 21,30
Venezia Mestre, Cinema Teatro Kolbe, via Aleardi 156
Showing of the docufilm "Karamea"
http://www.movieday.it/movie/index?movie_id=1132
http://www.movieday.it/event/event_details?event_id=2198
Photos of the infodesk: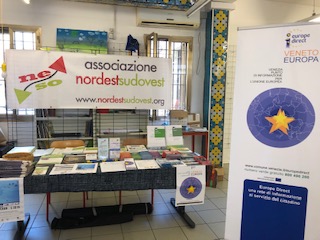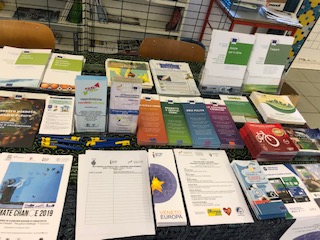 ATTENTION:  Europe Direct Venezia was present to the following events:
Tuesday 11 June 2019 at 12,00
Venezia, Office of the Council of Europe, S. Marco 180/c
Opening and presentation of the programme of the EU Sustainable Energy Week 2019
Monday 17 June 2019 at 16,30
Venezia Mestre, Hotel Tritone Best Western, viale Stazione 16
Conference "Producing from waste: sustainable energy and beyond. Circular economy experiences and projects"
Moderates
Wednsday 19 June 2019 at 17,30
Venezia Mestre, Centro culturale Negozio 67, via Piave 67
Conference "Clean energy, clean air: situation and projects in the Veneto area"