12.05-24.11.2021 Round of meetings on the European Union 2021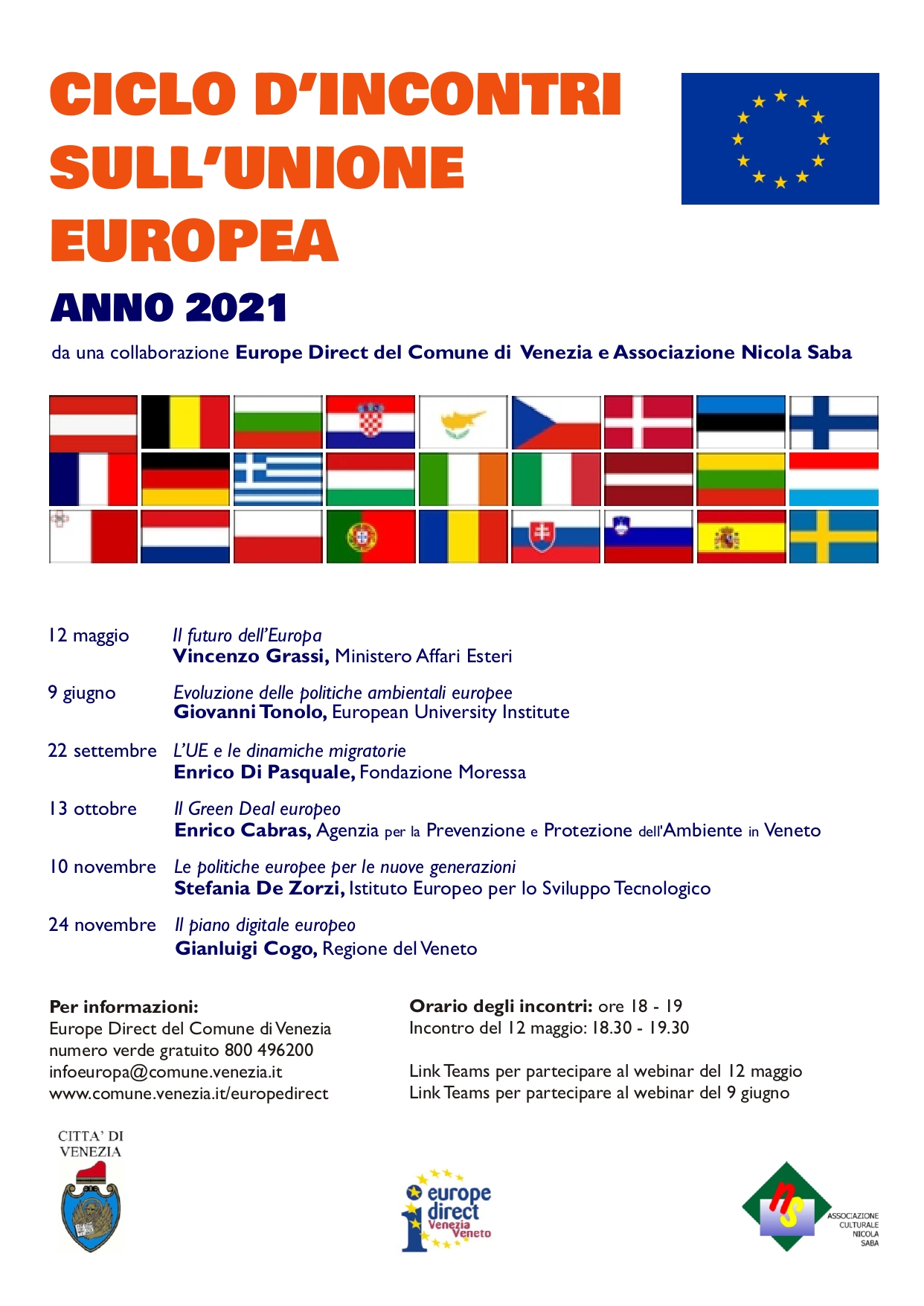 From May 12 to November 24, 2021 the "Cycle of meetings on the European Union" is held, included in the program of the academic year of the Association Nicola Saba, which consists of 5 online lessons that can also be attended individually. The course on the European Union, the aim of which is to provide citizens with basic training in this area, stems from the awareness that in order to live the European dimension to the full, it is increasingly important to know the history of the Union, the fundamental rights of citizens and other matters of common and topical interest. In this edition, special emphasis will be placed on the priorities of the new European Commission chaired by Ursula von der Leyen.
Participation in the course is open to all citizens and free of charge.
The event is the result of the collaboration between l'Associazione Nicola Saba e Europe Direct del Comune di Venezia.
PROGRAMME:
- Wednesday 12 May at 6.30 p.m.: The future of Europe - Vincenzo Grassi, Ministry of Foreign Affairs-
vedi dettaglio
- Wednesday 9 June at 6 p.m.: Evolution of European environmental policies - Giovanni Tonolo, European University Institute
- Wednesday 22 September at 6 p.m.: EU and migration dynamics - Enrico Di Pasquale, Fondazione Moressa
- Wednesday 13 October at 6 pm: The European Green Deal Enrico Cabras - Agenzia per la Prevenzione e Protezione dell'Ambiente in Veneto
- Wednesday 10 November at 6 p.m.: European policies for the new generations - Stefania De Zorzi, European Institute for Technological Development
- Wednesday 24 November at 6 pm: The European digital plan - Gianluigi Cogo, Project Manager Innovation and Digital Transformation, Regione del Veneto
Some images of the previous edition held in presence: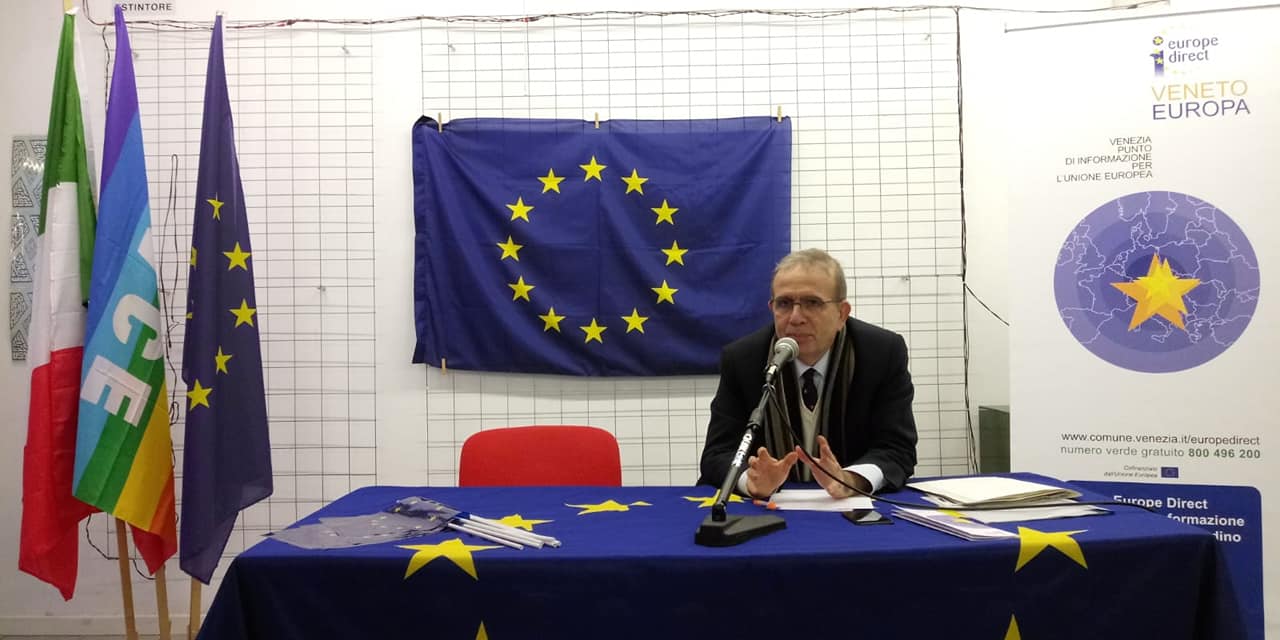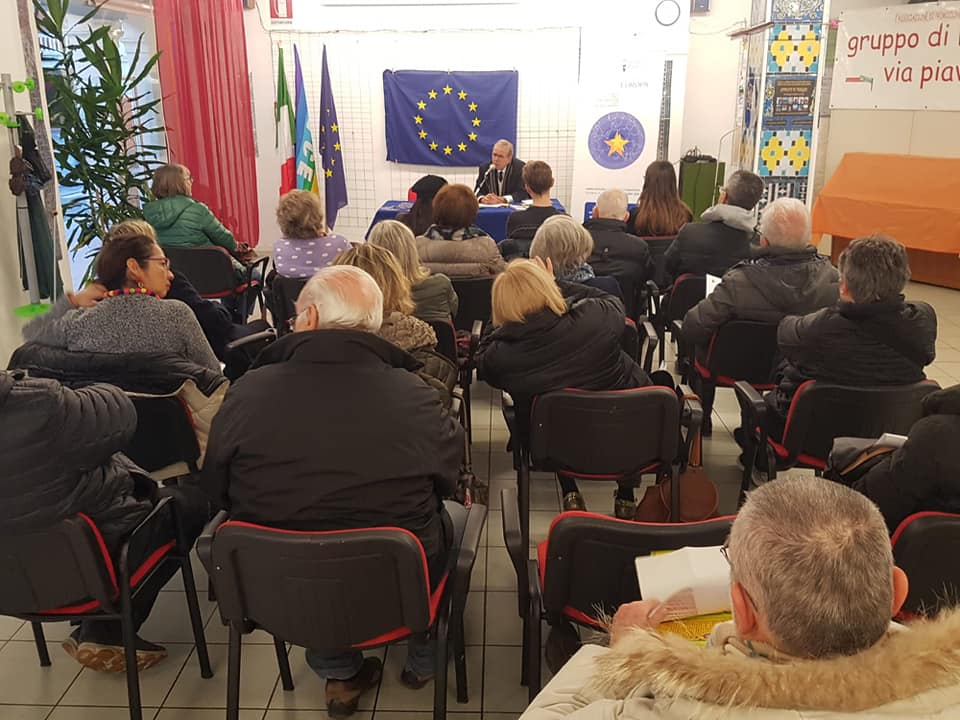 Per informazioni:
Europe Direct del Comune di Venezia
Via Spalti 28, 30174 Venezia Mestre
Revision of contents: 10/06/2021