10.05-12.11.2018 "Explore the world ... Veneto in Motion! Cycle of meetings about mobility in Europe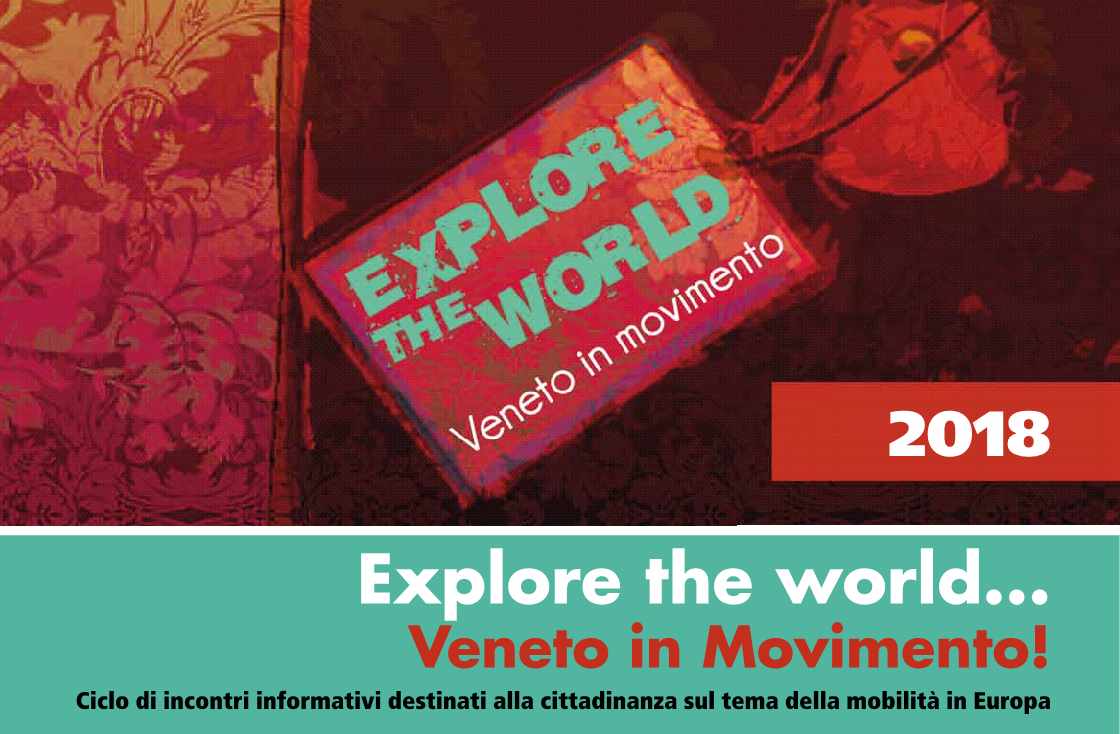 The Europe Direct-Eurodesk services of the City of Venice promotes "Explore the world ... Veneto in Motion!", a cycle of 4 information meetings aimed at citizenship that concern opportunities of mobility in Europe, in collaboration with the Euroculture Association of Vicenza (supervisor Bernd Faas, Euroculture consultant and international mobility expert).
Studying, training, working, volunteering abroad, activities that increase people's skills, foster personal development, adaptability and increase employability.
The young mobility, considered a precious opportunity for growth, is the key to unlock the potential of people, regardless their age and the social context in which they live.
The mobility experience must be seen in a perspective of "lifelong learning", aimed not only at acquiring new skills but also at the "social and civic" development of the person, in an intercultural  perspective and exchange.
PROGRAM
Thursday 10 May 2018, 9.30 am - 1.00 pm VENICE
Conference-debate Europe for young people
Auditorium Metropolitan City of Venice
Via Forte Marghera 191, Mestre-Venice
Wednesday 23 May 2018, 5.00 pm - 7.00 pm VICENZA
Destination Germany, Austria and German-speaking Switzerland: eins, zwei, drei!
Youth Camp - B55
Contrà Barche 55, Vicenza Speaker: Bernd Fass (Euroculture)
Details
Tuesday 16 October 2018, 10.00 am - 12.00 pm PADUA
Degree in the pocket: what to do abroad
University of Padua, Palazzo Bo, Aula Nievo
via VIII Febbraio, Padua
Monday 12 November, 3.00 - 5.00 pm VENICE
Degree in the pocket: what to do abroad
Ca 'Foscari University of Venice, Barter Hall
Dorsoduro 3246, Venice
The meetings focus on various topics of youth interest from studying abroad to the orientation of students that are about to graduate in high school.
Our journey in Europe and surroundings continues since 2012 with the cycle of meetings "Explore the world ... Veneto in Motion!" .
PS. The "Explore the World - Veneto in Movimento" project includes the distribution of the DVD "The world in a pocket", a virtual lesson on transnational educational mobility and orientation abroad, post-diploma and degrees. The DVD is free. For more information, DVD on orientation abroad, post-graduation and degree
Free entry by reservation.
For organizational reasons, registration for meetings is welcome:
Europe Direct - City of Venice
Tel. 041 2748082 - toll-free number 800 496200
Email: infoeuropa@comune.venezia.it
www.comune.venezia.it/europedirect