15.11.2018 - Training Day Erasmus+ "Guiding young people to transnational mobility ", shifting from 30 October to 15 November 2018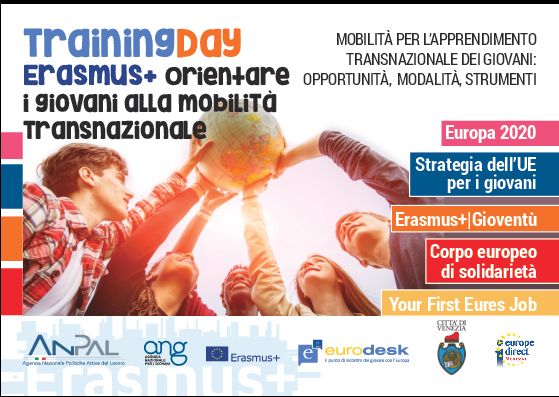 Due to the adverse weather conditions, the seminar was moved to November 15, 2018 with the same program and place of work.
For those who already registered, a new registration will not be necessary.
On Tuesday October 30, 2018 from 9 am to 5 pm will take place at the Sala San Leornardo - Cannaregio 1584 - Venice, the Erasmus Training Day + "Mobility for transnational learning of young people: opportunities, methods, tools" offered by the Erasmus + Youth, Your First Eures Job 5.0 and European Solidarity Corps.
The TrainingDay is an information / training seminar created by the Local Point Eurodesk / EuropeDirect of the City of Venice in collaboration with the National Agency for Youth, the EURES National Coordination (Anpal) and the Italian national network Eurodesk.
It is aimed at operators of information services, training and orientation of the territory: Informagiovani, Employment Centers, URP, Services for young people, etc., teachers, youth associations, youth representative bodies and associations, whosw desire is to improve the quality of the information activity aimed at young people concerning the themes of transnational mobility for learning.
Objectives of the working day:
deepen the main aspects of the guide to transnational mobility of young people for learning in non-formal education and employability;
inform about the services, tools and opportunities in support of the transnational mobility of young people through the main European programs / initiatives for learning, such as Erasmus + Youth, Your First Eures Job 5.0 and the European Solidarity Body.
support the empowerment of young people, through involvement and active participation, the acquisition of skills and knowledge useful for the planning of their professional development and / or training path throughout life.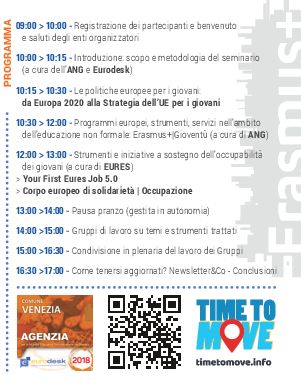 Participation is free upon registration on the web page www.eurodesk.it/2018/registrazione-Venezia
numero verde 800 496200
tel. 041 2748082