27.11.2020 Venetonight - Researchers' Night 2020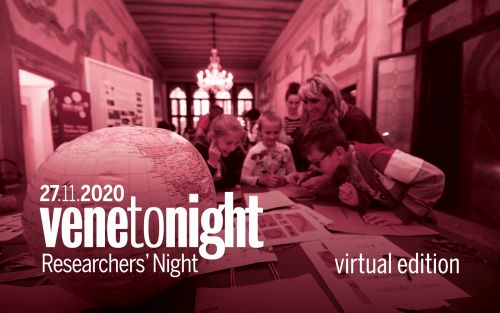 #Venetonight20
Friday 27 November 2020 the virtual edition of Venetonight "Researchers' Night" was held, an initiative in which researchers meet the general public in different European cities on the same day. Researchers' Night is an opportunity to bring the public of all ages closer to the world of research in a funny way, to open a space for meeting and dialogue with citizens and to raise young people's awareness of scientific careers.
Go to the official website of Researchers' Night in Veneto
Go to the official website of the Researchers' Night in Venice
VENETONIGHT Researches' Night 2020 in Venice is organised by Ca' Foscari University of Venice in collaboration with Europe Direct of the Municipality of Venice.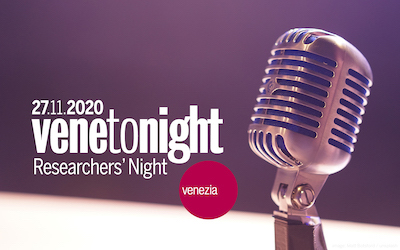 VENETONIGHT Researchers' Night 2020 in Venice, between 3 p.m. and 7.30 p.m., 13 researchers and Ca' Foscari researchers talked online about their projects on Radio Ca' Foscari and in streaming video, until 6 p.m., on the University Youtube channel "youcafoscari". 
3:00 p.m. Not only bread: food in nineteenth-century children's literature
interview with Anna Gasperini
3.30 p-m. Back To The Roots: Ethnobotany of Divided Generations
interview with Renata Soukand, Julia Prakofjewa, Giulia Mattalia
4 p.m. Disappeared Narrations: the literature of forgotten authors
interview with Alice Gerotto and Alessandra Trevisan
4:30 p.m. RePAIR: reconstructing and restoring with artificial intelligence
interview with Marcello Pelillo
5 p.m. A fortress on the beach: the dune and the Life Redune project
interview with Gabriella Buffa
5:30 p.m. Living in uncertainty: how media influence markets
interview with Paolo Pellizzari
6 p.m. Pills from Europe: Europe Direct
interview with Francesca Vianello
6:30 p.m. Cultural itineraries: an atlas of antiquarian erudition
interview with Damiano Acciarino
6.45 p.m. Mediterranean Magic: Jewish and Christian Magical Traditions
interview with Joseph Emanuel Sanzo
7 p.m. Beyond the word: intercultural communication
interview with Fabio Caon
All podcasts will remain available on the Radio Ca' Foscari portal.
Some pictures of the 2019 edition