10.04.2018 - InfoDay about the "Europe for Citizens" Program 2014-2020 in Padua
On Tuesday 10 April 2018 from 9.00 to 12.00, the Europe Direct of the City of Venice and the Province of Padua organize the regional infoday "Europe Program for Citizens". The initiative will be held in Piazza V. Bardella 2, Padua (Conference Hall).
Free entry after registration. To register, simply send an email to: infoeuropa@comune.venezia.it 
The 2014-2020 Program calls are open not only to provinces, municipalities and twinning committees, but also to civil society organizations, non-profit organizations, universities, schools and training / research institutions. The infoday is organized by the CPN National Contact Point of MIBACT.
The collaboration between Europe Direct Venice Veneto and the Province of Padua is now long-timed and realized over the years various joint initiatives with positive results. This year's proposal is in line with the past years with a public success and impact on the territory.
PROGRAM
9.00 Registration
9.30 Welcome greetings
Enoch Soranzo, President of the Province of Padua
Damiano Zoffoli, Member of the European Parliament
9.50 Introduction to the works
Europe Direct Network
Francesca Vianello, City of Venice
10.00 The Europe for Citizens program
Introduction to the Europe for Citizens Program
Presentation of Calls: Twinning between Cities, City Networks, Civil Society Projects, European Memory
Selection criteria and completion of the form, Rita Sassu, ECP - Europe for Citizens Point Italy
11.30 Testimonies and experiences
- The experiences of the Municipalities
Alessandra Tormene, Province of Padua
Larry Pizzol, Mayor of the Municipality of Sarmede (TV)
11.50 Questions and closure o
For information and registration:
town of Venice
Europe Direct service
email: infoeuropa@comune.venezia.it
free number 800 49200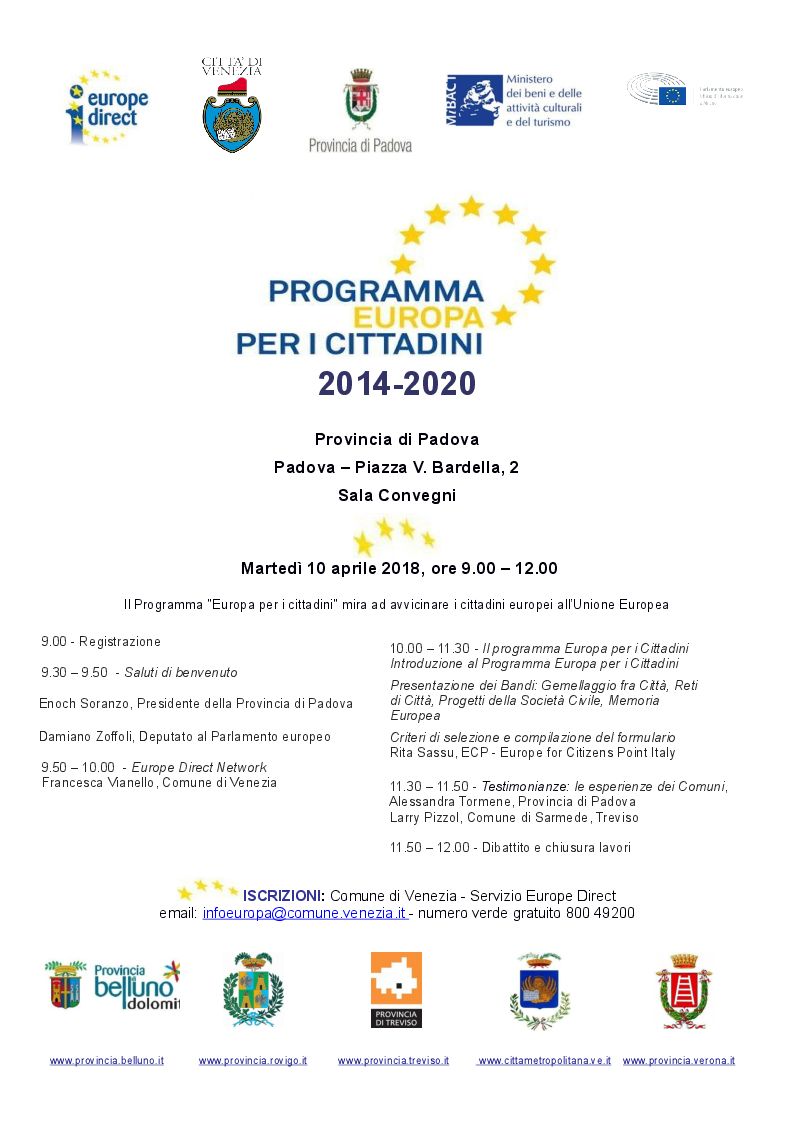 Photos of the event: