Atelier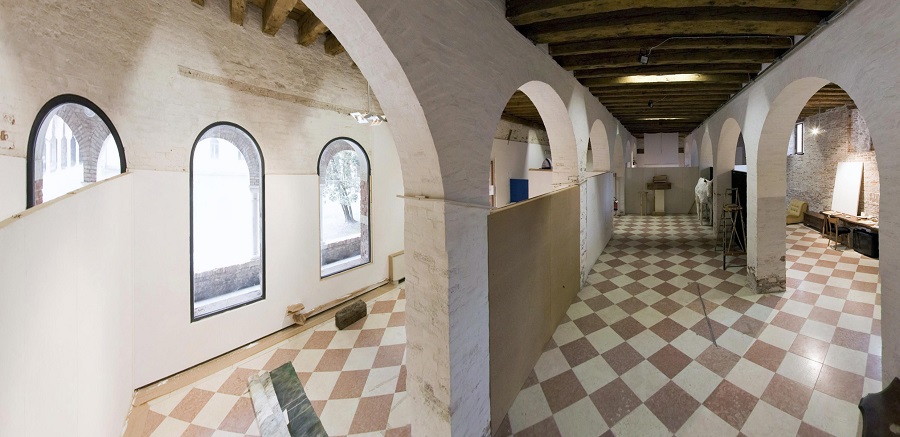 ---
The residence programme for artists held by our Foundation is among the longest-running in Europe, dating back to 1898 with the founding of the institution itself: it was in fact its founder, the duchess Felicita Bevilacqua La Masa, whose will was for her own private residence, the Palazzo Ca' Pesaro on the Grand Canal, to be destined to the promotion of the art of young artists in Venice. The donation was designed to facilitate access to artistic circles for young creatives, who were often denied the chance to take part in major exhibitions. It was for this reason that the Fondazione came into being in 1908 with a structure that not only made it possible to display works to the general public in the rooms of Ca' Pesaro itself, but it also served as an important showcase for the sale of works, besides offering accommodation and studios for the artists. The duchess had in fact decided that the piano nobile and the mezzanines should be given over to exhibition activities, while the third floor was to house 14 studios/residences provided to the artists free of charge.
At present, while due to various historical and artistic vicissitudes Ca' Pesaro no longer houses the headquarters of the Fondazione, the BLM has almost entirely maintained its original mission of promoting young artists: the Ateliers are today to be found in the prestigious Palazzo Carminati building in San Stae, and in the Saints Cosma and Damiano Complex on the Giudecca Island. Every year the Fondazione holds a contest to allocate its 12 art studios, five in the Giudecca venue and seven in Palazzo Carminati, to talented young artists in order for them to use these spaces for 12 months as their own personal ateliers (however not as private residences). In this way, the spaces become home to creative experimentation, artistic and intellectual contamination, direct comparison with both colleagues and critics in the field. This takes place through the organisation of visits by curators and those operating in the sector from international contemporary arts institutions, such as the Fondazione Sandretto Re Rebaudengo in Turin, the Deena Foundation in Paris, Stazione Rogers in Trieste, the Fondazione March in Padua, the De Apple Arts Centre of Amsterdam and FormContent in London. Furthermore, at least twice during their year of work in the studios, the artists are given the chance to present their research and their working methods to the general public, on the occasion of Open Studios and ArtistsTalk.
The restoration of Palazzo Carminati also made it possible to create two guestrooms.